Cosmetic mirrors come in a variety of shapes and sizes, ranging from large vanities to little travel mirrors. It is a must-have for all make-up artists, professional or amateur. In this post, we'll look at the advantages of using an LED vanity mirror. We'll also go over why flawless makeup is so important.
Portability
One of the most significant benefits of using a makeup mirror is its mobility. Makeup mirrors, as opposed to ordinary mirrors, are lightweight and portable. This is especially useful when touching up your makeup while out and about. Assume you're getting ready for a night out with pals and need to touch up your lipstick or eyeliner. You can simply do this with a portable makeup mirror without traveling to the toilet or finding a reflective surface.
Adjustability
Another advantage of utilizing a makeup mirror is that it may be adjusted. Most makeup mirrors include adjustable settings that allow you to vary the lighting angle and intensity. This is significant because it enables you to see your face from various angles, which is necessary for producing a flawless cosmetic appearance. When applying foundation, for example, you must ensure that it is equally distributed across your entire face. You can examine any places that require extra coverage and ensure that your foundation is blended evenly by altering the angle of your cosmetics mirror.
LED Lighting
Lighting is an important factor in the choice of a make-up mirror. Increasingly popular is LED lighting. Compared to other types of lighting, it looks and feels more natural. In addition, the energy efficiency and longevity of LED lighting make it a cost-effective alternative in the long term. Compared to previous lighting systems, LED lighting is also more versatile. This is vital since varied lighting situations might cause your make-up to look different. For example, applying makeup in harsh fluorescent lighting may appear different when you step outdoors into natural sunlight. You can ensure that your make-up looks amazing in any lighting circumstances by utilizing an LED cosmetic mirror.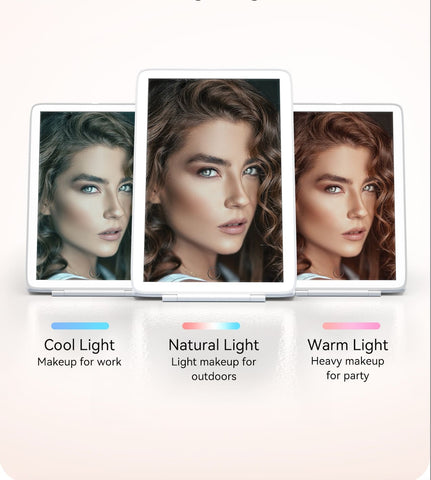 Detail-Oriented
Using an LED beauty mirror allows you to be more precise when applying makeup. While using a standard mirror, it can be difficult to spot minute faults or details in your cosmetic application. On the other hand, an LED makeup mirror allows you to alter the angle and intensity of the lights to see every aspect of your face. This is especially handy for applying eye makeup, as precise application of eyeliner, eyeshadow, or mascara is required.
Skin Care Advantages
A decent makeup mirror can also aid in the improvement of your skin care routine. You may see your skin in a more natural light by utilizing a mirror with LED lighting and identifying spots that require more attention.
Boost your self-esteem
Putting on make-up is a confidence booster for many individuals, and having the proper mirror may make all the difference. With an LED cosmetic mirror, you can see your face in the best possible light. This can help you feel more confident and prepared for the day ahead.
Professional outcomes
A high-quality LED mirror is a must-have if you take make-up applications seriously or work in the beauty industry. These mirrors give the most accurate and natural lighting possible, vital for cosmetic product application. You can ensure that your make-up looks flawless every time by utilizing a professional-grade mirror.
Read More