Introduction
The perfect makeup mirror can make all the difference for individuals who enjoy spending time outside. An excellent makeup mirror can help you look your best while you experience the great outdoors, whether camping in the woods, hiking in the mountains, or simply enjoying a day at the beach.
Features To Look for in Outdoor Makeup Mirrors
There are numerous varieties of makeup mirrors available today, but not all of them are appropriate for outdoor use. There are, however, many outdoor mirrors with features like mobility, extended battery life, and high brightness to ensure that you can always see yourself clearly no matter where you are.
Portability is a crucial element to look for in an outdoor makeup mirror. You don't want to be weighed down by heavy equipment when you're traveling or exploring. Many outdoor beauty mirrors are lightweight and compact, making them easy to pack and transport wherever you go.
Another crucial factor to remember when choosing an outdoor makeup mirror is battery life. Finding an available charging station while out can be challenging, so a mirror that provides extended battery life on a single charge is ideal.
Aim for an outdoor makeup mirror with at least 10 hours of battery life on a single charge for maximum portability and convenience. Anything less could leave you searching for an outlet in the middle of using the mirror, ruining the spontaneity of your excursion. Some mirrors offer 12-24 hours of battery life per charge for even greater flexibility.
It is also critical to have lighting in the exterior mirrors. Natural light is scarce when we're on the move. Many outside vanity mirrors provide adequate lighting. You can see yourself even in dim light.
Color temperature is another important thing to consider when purchasing outdoor cosmetic mirrors. Because the color temperature of a light source can affect how your makeup looks, choosing an outdoor-optimized mirror is crucial. Some outdoor beauty mirrors contain color temperatures optimized for outdoor use, ensuring that your makeup appears flawless no matter where you are.
For those who enjoy taking photos outside, some beauty mirrors include Bluetooth connectivity, allowing you to connect your phone to the mirror and capture selfies easily. This function is especially handy for people who want to document their trips while looking their best.
Different varieties of outdoor makeup mirrors are advised for different outdoor circumstances based on these attributes. For example, a portable and rechargeable mirror with great brightness and long battery life is recommended if you're going camping. A waterproof mirror with Bluetooth connectivity may be more appropriate if you're going to the beach.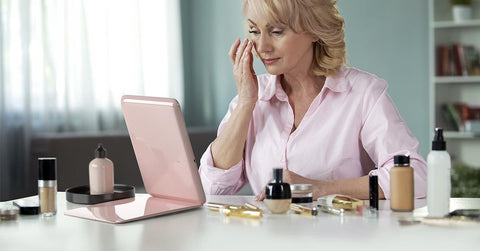 The Future of Makeup Mirror Technology
Looking ahead, new technologies will almost certainly continue to improve the outside makeup mirror experience. Some companies, for example, are experimenting with augmented reality mirrors, which allow you to see how different makeup looks will look on your face before applying them. Other businesses are developing mirrors with voice-activated controls, making it even easier to utilize your mirror while on the road.
As technology advances, we should expect to see more inventive cosmetics mirrors that use augmented reality (AR) and mixed reality (MR) technologies. AR technology may superimpose digital information on the real environment, but MR mixes the real and virtual worlds to create a more immersive experience.
In the future, we may see mirrors with AR and MR capabilities, allowing us to visually sample alternative makeup looks before applying them in real life. Based on facial recognition algorithms, these mirrors will assess our skin tone and offer the best makeup things for us. They will also be able to simulate different lighting scenarios, allowing us to see how our makeup would look in different situations.
Furthermore, these mirrors may be able to detect our movements and adjust our cosmetics accordingly. For example, if we tilt our heads, the mirror will adjust the cosmetics arrangement to ensure a consistent appearance.
Conclusion
Choosing the correct cosmetic mirror for outdoor travel is critical to look your best while experiencing the great outdoors. You can enjoy the beauty of nature while still looking and feeling your best with the appropriate blend of portability, battery life, brightness, and color temperature. As technology advances, new and intriguing makeup mirror choices will undoubtedly emerge, making it easier to keep attractive while exploring our surroundings.
Read More