From the straightforward portable mirrors of the past, makeup mirrors have advanced significantly. With the development of technology, makeup mirrors have transformed into cutting-edge devices with multiple uses. In this essay, we'll examine the state of high-tech makeup mirrors now and speculate on their potential for the future.
Current State of High-Tech Makeup Mirrors
High-tech makeup mirrors can be classified into three categories: smart mirrors, LED mirrors, and augmented reality mirrors.
Smart Mirrors
Smart mirrors are mirrors that have features that enable interaction with the user. These mirrors are connected to the internet and can be synchronized with other devices such as smartphones and tablets. They are able to display news, weather updates, and even notifications from social media sites. For hands-free convenience, smart mirrors can also be controlled by voice commands.
LED mirrors
Due to their ability to provide bright and even lighting, LED mirrors are becoming increasingly popular. Make-up application is easier in a variety of lighting conditions because the LED lights simulate natural daylight. Users can also customize the lighting to their liking with adjustable brightness settings on these mirrors.
Mirrors for Augmented Reality
Augmented reality mirrors use advanced technology to provide users with a virtual makeup application experience. These mirrors scan the user's face using cameras and sensors and apply virtual cosmetics in real-time. Users can experiment with various makeup looks without actually applying makeup to their faces. Augmented reality mirrors can also take photos and post them on social media.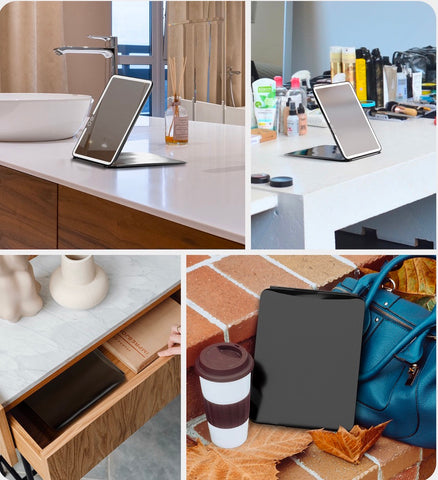 The Future of High-Tech Make-up Mirrors
There is a bright and promising future for high-tech make-up mirrors. As fast-moving as we are, we are always seeking ways to make our lives easier and more comfortable. To help us do things faster and more efficiently, we rely on technology. Combining the power of fans, Bluetooth, and smartphone applications.
Electric fans
Used to cool a room or a person, electric fans are a common household appliance. When coupled with a cosmetic mirror, they might take on a second purpose. A cosmetic mirror with an electric fan built-in could be useful. The fan can be set to blow cold air directly into your face, preventing makeup from smearing or melting while you apply it.
Bluetooth
Bluetooth technology is becoming increasingly widespread in our daily lives. It enables us to wirelessly connect our devices and stream music or other content. When paired with a cosmetic mirror, Bluetooth technology may be utilized to play music or other audio material. This might assist to create a pleasant and comfortable environment when doing makeup.
AI(Artificial Intelligent)
The beauty sector has already embraced artificial intelligence (AI). Artificial intelligence-powered beauty apps may evaluate a user's facial characteristics and skin tone to offer the best makeup products for their skin type. In the future, we might expect to see AI integrated into cosmetic mirrors. These mirrors will be able to evaluate the user's face and offer tailored cosmetics.
VR(Virtual Reality)
In the beauty sector, virtual reality (VR) technology has already been employed to give customers a virtual cosmetics application experience. The future of VR in cosmetics mirrors, on the other hand, is even more intriguing. Users will be able to test cosmetic looks in a virtual world using VR technology, providing a more immersive experience.
Recognition of Facial Expressions
Facial recognition technology may be incorporated into make-up mirrors in future generations. They can recognize your face and automatically change lighting and makeup suggestions.
Conclusion
Say goodbye to your antiquated makeup routine and welcome the new beauty trends. High-tech LED makeup mirrors are becoming essential for everybody who wants to appear their best as a result of the development of revolutionary technology. But what comes after? The potential for even more ground-breaking inventions is limitless as AI, VR, and facial recognition technology continue to progress. Don't fall behind; keep up with the times by upgrading your beauty routine with one of the many cutting-edge makeup mirrors on the market right now.
Read More